How to change the brightness of the display PDA
You will need
Actually, your PDA, stylus and charger from it and quite a bit of time.
Instruction
Adjusting the brightness of the backlight, like all other functions of the "handheld", is made in the appropriate section of the device menu. To get into it, enough on the Today screen (if yourPDARussified, this screen is called "Today") press the "Start" button, in the drop-down menu at the bottom, and there is an option "Settings".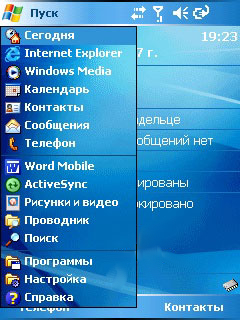 After clicking on it, the communicator settings window will open. It consists of several tabs. The label for setting the backlight brightness is located in the "System" tab.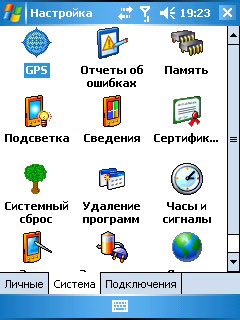 The backlight settings menu also has three tabs. First, it is logical to open the tab "Brightness"And manually adjust the required level of brightness of the backlight depending on the powerPDA- internal battery or external source. This is undoubtedly convenient, because when the communicator is connected to an external power source, there is almost no need to save electricity.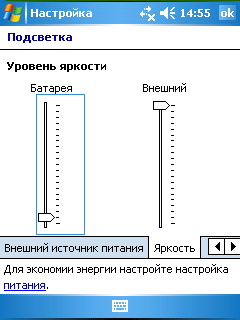 The "Battery Charge" tab allows you to set the backlight to turn off automaticallydisplayPDAduring inactivity device. This function is very important because the backlight is a very power-consuming device and its operation time is inversely proportional to the total operating time.PDAfrom the battery. Also on this screen, you can enable or disable the activation of the backlight when you touch the screen or buttons.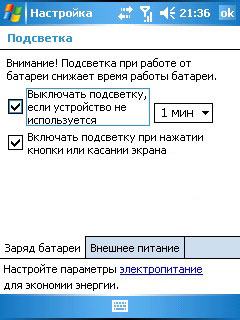 The "External Power" tab for the controls is similar to the previous one, with the only difference that you can now set the off time when an external power device is connected. Its meaning is to save the life of the backlight in the event that the user does not turn it off manually.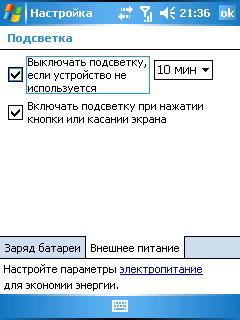 note
Always use the original accessories that came with your PDA: connecting cables, rechargeable batteries and chargers from the "side" can harm the performance of an expensive and useful communicator.
Helpful advice
The backlight tuning systems may vary depending on the manufacturer of the PDA, for example, in the number of possible brightness gradations. Competent setting of the described options will help to significantly increase the battery life of the PDA from the battery and save lamp life when working from an external power source.